Neo Hopper Base Unit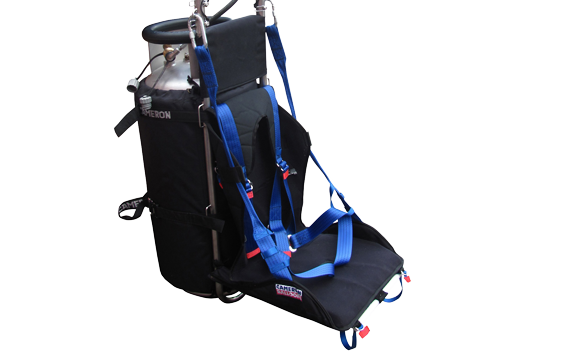 Cloudhoppers are great fun. The pilot is safely strapped into a comfortable harness. The fuel cylinder and burner are perfectly designed to attach directly to the balloon envelope. Hoppers provide the ultimate flexibility and pleasure at a fraction of the running costs of a conventional hot air balloon.
The harness technology has been likened to that in paragliding and provides security coupled with comfort for standard flights of about 2hrs in duration.
Easy to inflate and pack away, these beautifully-crafted units are extremely simple to operate and perfect for new pilots or those who want a unique visual impact for marketing campaigns and promotions.
Base Units are now fitted with a set of stainless steel hinges, making transportation and storage even more convenient. This simple system allows for the back frame to fold and pack neatly, even with the harness attached.
Our very latest Hopper base Unit benefits from larger rear-view mirrors, an independent emergency fuel cut-off, padded head-rest, seat positioning tabs for ease of inflation, increased comfort in the seat. Under the seat, there is even a handy pocket, ideal for storage.
Duo Airchairs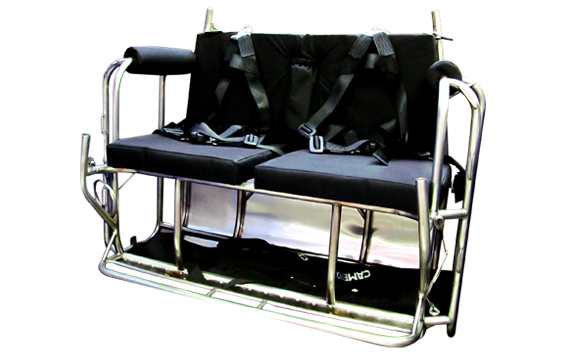 Duo airchairs are perfect for any pilot who wants to enjoy the freedom of flight without the restriction of a basket. Whether to instruct a new pilot, present exciting visual and brand impact for your sponsor or to provide an experience for the less physically able, the Duo airchair is compact and versatile.
Build from a tubular stainless steel welded construction. The load is carried from the burner frame with four load wires which are attached to the 'J' shaped frame using quicklinks.
Standard vertical fuel cylinders are strapped to the ends of the frame. A specialised passenger restraint harness keeps you safe and sound, in total comfort. You can choose between leather or cordura trim.
The Stratus or Shadow burners can be fitted in either single or double configuration. More information on burners can be found here.
The positioning of the pilot and passenger offers tremendous comfort while you enjoy the thrill and excitement of flying over the landscape. All airchairs benefit from padded seats, armrests, footrests, easily-accessible controls and a fully-gimballed burner.
Our Chariots are now being used for less physically abled balloon flight training - see www.aerobility.com for further details