2020 Transatlantic record-breaking attempt adventure to fly across the Atlantic Ocean
Deborah Day and Mike Scholes will take on the exciting and challenging record-breaking attempt adventure to fly across the Atlantic Ocean.
by Hannah Cameron
6 September, 2019
The intrepid pilots plan to take off from New Brunswick, East Coast of Canada with the aim to land "where the winds take them" over Europe. The adventurous flight is expected to take between 5 to 7 days aloft and the couple also hope to break existing distance (the Atlantic Ocean is approximately 2900miles / 4,670km) duration and altitude records for this size of aerostat.
We're very excited about the flight, it will be an adventure of a lifetime...
Deborah explains; "We are very excited about the flight, it will be an adventure of a lifetime, challenging - of course but we are really looking forward to completing the flight successfully and raising awareness for Blind Veterans UK who have given Mike invaluable support and training, since his sight loss."
One of Deborah's ambitions is to be the first female pilot to cross the Atlantic Ocean and Mike aims to be the first registered blind person to make such an adventurous balloon-crossing as crew.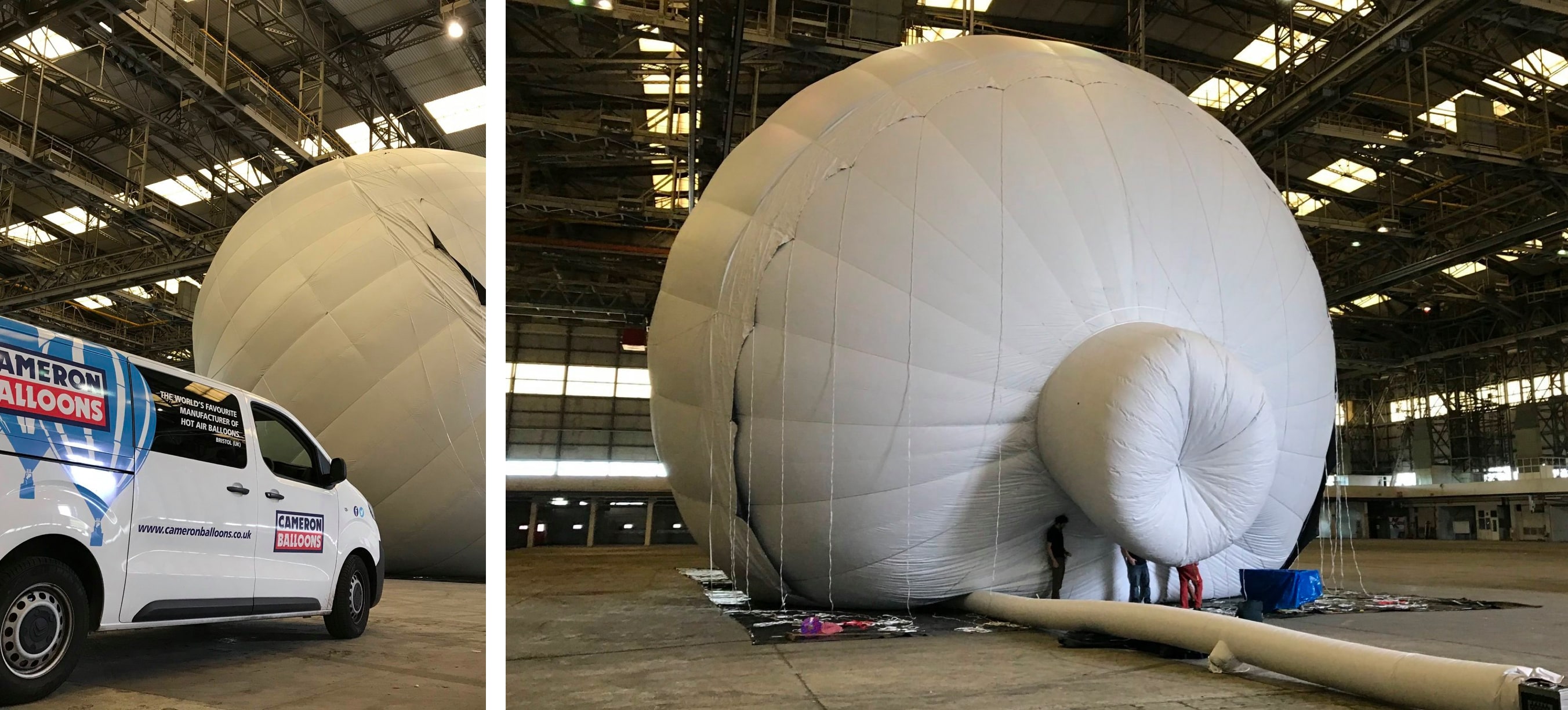 Affectionately known as Golf-2020
This new Cameron Balloons designed and built balloon is the first of its kind. It can be adapted to fly with either hydrogen or helium and has been designed to reach altitudes in excess of 20,000 ft. "The Roziere balloon can be flown as a helium and hot-air combination or it can be used as a hydrogen only balloon." explains, Pilot, Deborah Day.
The Cameron Balloons specially designed balloon created a job for the UK Civil Aviation Authority too who had to invent a new classification type for this unique balloon, so now Deborah and Mike's lighter-than-air craft, is the first of this new classification, the Roziere 77 Gas Balloon (R77GB) G-ZOZO (affectionately known as Golf-2020.)
Deborah and Mike have decided against a convention when flying over such a large expanse of sea and despite advice to the contrary they will use an open-weave basket rather than the more usual and highly-recommended capsule.

Deborah and Mike are adamant that an "ordinary" basket will provide them with the flight experience they want and have planned their flight in the basket extremely thoroughly; to ensure the equipment to counteract the cold of altitude/night and the emergency systems are all in place despite being so open to the elements. For example; the basket will carry added insulation, as well as all supplies, equipment and communication systems the couple will need.
Both Deborah and Mike are also undergoing specialist training to get them ready for their adventurous flight – including survival "dunk" training and general fitness training.
During the flight one of the specialist pieces of equipment Mike will use is an audio app. so that he can monitor the flight whilst Deborah sleeps. Mike clarifies "Even though I am registered blind I am bringing a wide range of experience to the challenge and my sight loss does not affect my ability to crew. I am really looking forward to the journey and having been to the test inflation and understood each step of the set-up, I have every confidence in the design and manufacture of the envelope."
The Couple also have the support of a very experienced ground support team who will work alongside them leading up to and throughout their flight; Kevin Stass, Flight Control Director, Luc Trullemans, the team's meteorologist and Bert Padelt, experienced Gas Balloon Launch Master, all of which have worked on previous record-breaking balloon flights or FAI (Fédération aéronautique internationale) approved competitions.
About the pilots
Deborah Day is a Director of a busy hairdressing business based in West Sussex and in her time away from work she enjoys hot-air ballooning - regularly competing in long-distance flying competitions. To date Deborah has also twice won the "Great British Long Jump" distance ballooning competition, is the first person to fly East to West along the English Channel (over 283 kilometres) and the CAA have advised that Deborah is the only woman to hold a UK Roziere* balloon licence.
Deborah is also a keen marathon runner and has completed over 30 marathons and has a current personal best of just 3hours 8minutes.
Mike Scholes has been flying hot air balloons for nearly 30 years. After leaving the Royal Navy, Mike took up ballooning and ran his own successful passenger ballooning company in Sussex for some years. Prior to 2007, Mike gained five British ballooning duration records and was one of only seven British pilots to fly above 31,000 feet.
In one of his most notable flights in a small balloon Mike used a builder's sack instead of a basket to enable him to save weight flown, ascending to 31,976 feet, qualifying him for a British Balloon and Airship Club Diamond badge. Later in 2006 he also made a cross-country flight of over 23hours from Cambridge to Shropshire establishing a new British duration record. Mike has also twice won the annual long distance ballooning competition "The Great British Long Jump", and has also flown over the Alps and the English Channel. In 2007 Mike was presented with the Royal Aero Club Bronze Medal by H.R.H. The Duke of York and that year, after losing his sight Mike started marathon training and has now completed 14 marathons with Deborah as his sighted running partner.
The 2020 Transatlantic Balloon challenge has already attracted press attention with wide coverage on social-media, television, radio and press. Deborah hopes that it will "be a great opportunity for further sponsors to gain memorable and long-lasting publicity for their businesses as large spaces are available on the balloon for artworks and logos.
Be part of their story
Sponsorship