Aerial Advertising Special Shape Hot-Air Balloon
This Dodo superhero special shape hot-air balloon built by Cameron Balloons in the UK, is the logo of Australia's internet, mobile, landline, power, gas and insurance provider.
by Hannah Cameron
14 October, 2022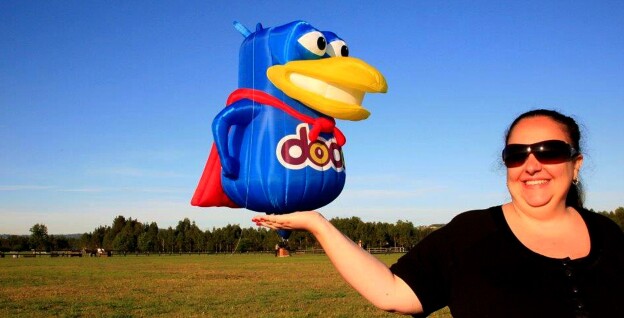 This loveable brightly coloured blue bird is the unmistakeable emblem of dodo and it launched into the skies of Australia during April to promote and support the company's extensive marketing programme across Australia, focusing on consumer excellence and client choice.
The Cameron Balloons manufactured huge special-shape hot-air balloon is a towering, nearly 30 metres high.
For those that enjoy a comprehensive behind-the-scenes story, here are the precise Cameron Balloons Dodo special-shape hot-air balloon envelope statistics:
The overall height is 29.4m
His width, at the widest point, is 24.5m
He has a gross volume of 141,400 cu.ft
And an active volume of 105,000 cu.ft
We used over 3.9km of fabrics & over 19.5km of thread to build him
The teeth are a made up using a white 'wall' of fabric for a bright white smile effect
The feathers on top of his head are about 4.2m long
His beak length is 14m
And the eye diameter is 6.9m
Lastly, if the fabric used to make the cape was instead used to make some children's sized superhero capes, we would end up with about 1700 of them.
'It took 15 of our tremendously skilled and very talented staff to construct the enormous balloon. It has been quite a job to keep the information about this balloon secret but of course, we at Cameron Balloons we are very used to having to work in a confidential manner. We even have to do some of our test flights in secret and when our products are over twenty metres high – that can be quite tricky.' reports, Lindsay Sadler, Production Director Cameron Balloons
The Dodo balloon is operated by Pilot Paul Gibbs of Goldrush Ballooning, Sydney and is due to be flying around the major cities of Australia working to complement their successful interactive dodo connect kiosks and with the promotion staff in full dodo character-costumes or the striking purple and yellow team clothing the Dodo crew will definitely be hard to miss.
The special-shape hot-air balloon hero of dodo's services was launched in April after a successful flight test both in the UK with the team from Cameron Balloons and in Australia and with gold medals for their services by consumers they really seem to be seriously flying now! Good luck Dodo. www.dodo.com
Just for fun and comparison – here are some real Dodo facts.
It was a flightless bird and has been extinct since 1662 & was approximately 45cm in height
It had a volume of about 1.3 cu.ft (Their demise was attributed to the fact they fitted rather well into a large cooking pot)
As for teeth – of course none, as birds don't have teeth

Do send us in photographs of your Dodo sightings – the hot-air balloon version of course
We do love to keep in touch with all your Cameron Balloons news, so please keep sending it in… enquiries@cameronballoons.co.uk