Aerial Work Balloon Business - Part 1
This useful guide offers helpful hints and background for those that want to fly hot-air balloons to advertise their own or other people's businesses.
by Hannah Cameron
15 October, 2022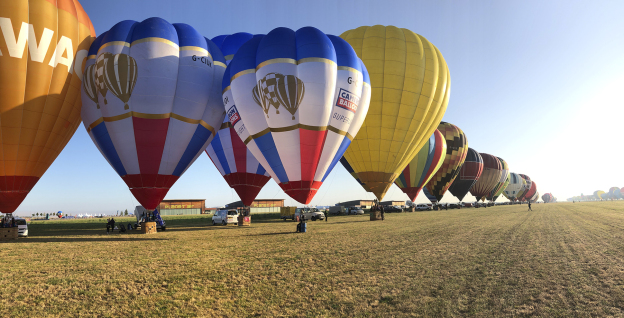 Cameron Balloons helps make ballooning your business! We are the world's favourite balloon manufacturer with a trusted reputation you can rely on.
Cameron Balloons Ltd has been building hot-air balloons for nearly 50 years, we have our balloons certified and approved everywhere from Australia to Zambia, Burma to Yeman, China to Ukraine, Denmark to Thailand and just about everywhere in-between and we have manufactured more than 10,000 balloons worldwide, including the world's largest passenger balloon and record-breaking balloons which have circumnavigated the globe non-stop (which we are delighted to say we have successfully broken the records, three times to date – Fedor Konyukhov 2016 in a Cameron Roziere-550, Steve Fossett 2002 in a Cameron Roziere-550, Piccard/Jones 1999 in a Cameron Roziere-650!)
This useful guide offers helpful hints and background for those that want to fly hot-air balloons to advertise their own or other people's businesses.
"Aerial work balloons are ALL about creating communication! We often say, a balloon can be an enormous advert that people photograph! Always, timeless, magical and utterly memorable…"
Balloons are a highly visible and unforgettable form of advertising.
The "balloon provides an impactful and innovative way to interact with consumers at festivals and shows over the summer." Pev Manners, Managing Director, Belvoir Fruit Farms, UK.
What is an Aerial work business?
Aerial work balloons are a way of advertising in an tangible, exciting, lifestyle-inspirational way, bringing a product or service to the attention of potential and current customers…
By showing your products in a clear, experiential and unforgettable way, creates an ideal platform for brand promotion providing options for consumers and clients to develop new ideas, interact, refer, rate or review - all inspiring purchase.
Aerial Marketing is a prestigious but accessible way of flying over cities, tethering at events, creating PR opportunities and press-worthy opportunities that influence and educate, drawing in the Media, your targeted audiences and the wider public.
Balloons can be a very hard-working part of your marketing mix, an effective way of brand-building and growing product loyalty and engagement.
"Understanding what your customer wants and translating it into a customer-friendly tangible hot-air balloon enables your company to deliver a memorable, inspirational marketing pitches in front of a potentially huge targeted or wide audiences depending on the events and venues chosen"
"Ballooning enables you to create the boldest and best messages that will resonate with clients."
What would I need for a great Aerial Work Balloon Business?
In brief…
1. A stand-out-from-the-crowd, hot-air balloon or even better an unforgettable special-shape hot-air balloon with bold, clear, accurate and beautiful branding.
You need great, proven long-lasting, reliable, hot-air balloon equipment, specially designed to enhance adverts and artwork logos or messages, in a bold and clear way.
2. Great locations with careful consideration to the business you are working for, their current position in their market with future-proofed options for a variety of different locations too.
3. An everlasting supply of market-targeted consumers, audiences, visitors and tourists.
4. Investment capital.
5. Interesting, experienced, fun; Pilots, Crew, Media-team, Guides & perhaps even Chefs!
6. Lots of great ballooning weather.
7. Strengths, Opportunities, Aspirations and Results (SOAR). More great reasons to start an Aerial Work Balloon Business and other useful topics to consider are in our Aerial Balloon Business key points in more detail guide too.
Why not try this simple but effective test? Ask anyone…
What was the last billboard advert they noticed, in say, the last week? (Let's make it easy for them!)
What was it advertising?
Do they drive or walk past the location every day?
How does it make them feel when they see it?
Would they like their picture taken with the billboard?
Would they share the photo on their Social Media platforms or with their friends?
Then ask them….
What was the last balloon they saw? (Notice their face light up!)
Where were they, how long ago was it, what was on the balloon?
Then the same last two questions…
Would they like their photo taken with the balloon?
Would they share the picture, film, time-lapse on their Social Media platforms or with their friends?
Perhaps some extra questions too…
Would they go out of their way or be 5minutes late for work to watch a balloon flying or perhaps see it land?
Would they chat to the balloon crew or tweet the company whose logo was on the balloon?
What do I need to start? As I want to operate my company's hot-air balloon myself!
You will need a balloon licence - in the UK it is known as a commercial licence – but first you need a PPL(B) – Private Pilot's Licence (Balloons) more information about how to train for that, is here.
Aerial Work Balloon Business Key Points - in more detail.
You need great, proven long-lasting, reliable, hot-air balloon equipment – and that is where Cameron Balloons comes in, we specially design balloons to enhance adverts, artwork logos or messages in a clear and beautiful way.
1. Equipment.
Cameron Balloons offer approved and certified, proven long-lasting, reliable, hot-air balloon equipment - specially designed for bold and unmissable artworks, perfect for carrying media, passengers and guests.
Balloons can be built in a size that is optimised for flying media, or a couple of passengers or VIP guests (or in another size if you prefer.)
Cameron Balloons have been producing high-quality, hard-wearing and infinitely reliable balloon equipment for nearly 50 years - most of the special-shape balloons, passenger ride, sports and aerial work balloons you will see have been made by us in the UK or by our sister company in the United States.
The principle of how a special-shape hot-air balloon works, is simple… a basic idea that can be grasped even by young children… but when you actually look at the aeronautical design and the exacting attention to detail that goes into building each and every one of our Cameron Balloons aerostats, I think all would agree, that the finished aircraft is far from simple.

It is our job at Cameron Balloons to make the enormous, complicated and often seemingly impossible objects into reliable working aircraft that fly, something we have been doing very successfully doing for nearly 50 years.

A tried and tested business model for aerial work ballooning, is flying a balloon, that is built for a pilot plus two or three people. The balloon towers about 25 metres tall (about 8 storeys) but conveniently it is also a size that can be operated by a single pilot and one balloon crew too. This makes transportation of the passengers and equipment easy as well as reducing the need for specialised storage facilities (usually a hard-top, roadworthy-trailer is sufficient.)

Maintenance and safety; like all aircraft balloons require regular maintenance and annual inspections to maintain the certificates showing airworthiness. This has to be done at us the manufacturers or at an approved repair station - usually at one of our international dealers whose contact details can be found here.
Damage to a balloon is a rare occurrence but if it happens, repairs must conducted according to the manufacturer's instructions by authorised and approved experts, then it can be inspected and signed off as "fit for service" by a qualified inspector with full details added to the balloons' logbooks, manuals and online records.
Aerial Work does not include the carriage of passengers for hire or reward – for that you need an Air Operator's Certificate which permits the carriage of passengers for a fee. More information about passenger-flying is here.
2. Great locations with careful consideration to the business you are working for, their current position in their market and potential future expansion locations.
You will need a good list of venues and contacts that are willing to let you use their grounds – anywhere that is convenient for your target audience that has a piece of fairly flat, dry ground (a nice sports pitch or big grass lawn works well)
Locations vary widely depending on events with take-offs from; festivals, sports events, alongside castles, stately homes and launch sites near amazing city-landmarks or perhaps even from a local fields near your home...
3. An everlasting supply of target-market consumers or audiences, visitors, tourists.
Consideration to the business you are working for, their location, their targeted audiences, sports events, large public gatherings or media press call events - being nearby a city full of people wanting to fly also has distinct advantages.
"Balloons evoke an emotional response, which other forms of marketing just cannot reach – think back what was the first balloon you ever saw and how did you feel?"
4. Investment capital.
An advertising balloon set-up is going to cost in the region of £40,000 (valid at August 2017); for a balloon envelope, balloon basket, balloon burner, 6x40L tanks and a fan. It is also important to consider the need for a vehicle, trailer and storage parking too.
5. Interesting, experienced, fun; Pilots, Crew, Guides & perhaps even Chefs!
To operate your balloon you will need an experienced pilot with a UK Commercial Pilots Licence, this is regarded as the best and most transferrable around the world, useful if you need the balloon to travel overseas too.
Find a great balloon team that you really get on with – a crew that is part of "your tribe". We all work best with people that understand us, people who we can work with "shoulder to shoulder" but also laugh along with too.
Crew – do they fit your brand, do they have time to work for you as many crew have this role part-time and work elsewhere too, do they have appropriate licences; are they DBS checked if required, can they drive with a trailer, are they jolly, tidy, organised and most importantly what do they know about your product…?
6. Lots of great ballooning weather.
Assume very early mornings and late afternoons / evenings as this is when winds are calmest and when balloons usually fly – perfect to catch those commuters!
There is most definitely a need for calm, dry weather but actually even in the UK (which is not well known for perfect weather) most balloon passenger- rides companies, usually fly more than 120 days a year (mainly during May to October)
7. Strengths, Opportunities, Aspirations and Results (SOAR)
Some may prefer S.W.O.T. (Strengths, Weakness, Opportunities & Threats) whatever framework you like to use, here are some more great reasons to reflect on, when starting an Aerial Work Balloon Business.

Contracts: Like nearly all of life, if it seems too good to be true – it probably is. It is worth studying the operation contract(s) carefully. Some balloon companies will only operate the balloon for a fixed number of days or weather-dependently at a fixed number of events.
All balloon-operation companies have a weather-dependant element to their contracts – ensure you know the permitted rules of when a balloon can be operated (these can be found easily in our flight manuals here) and ask, what will they do for you if they are "weathered out" and when and who will decide (usually the pilot) that it is not flyable or tetherable…?
It is also worth knowing in advance, who will fly your balloon if your regular pilot is unable to.
Some balloon operating companies offer to run the balloon for you at a lower daily rate and once the contract is finished say after 3 years or 5 years the balloon equipment becomes theirs – this may work well for your company. However, would you want the balloon flown by them as they see fit afterwards? (Perhaps less of a worry if they were permitted by contract to fly just overseas or if they have to change an element of the logo so it would no longer represent your brand.) You might also wish to put the balloon operation out to tender for again or perhaps after that time it will have done its job and it would be time to sell or carefully store it just for special occasions….
For some jobs it might also be wise to have your balloon operator licensed by the UK's Civil Aviation Authority – holding an Air Operators Certificate as this may offer you greater flexibility when conducting flights, carrying fee-paying passengers or filming as special permissions for cities, sites or events may only be available to companies with these extra qualifications.
Some operation companies offer use of their 'bottom-ends' this means that you would buy the fabric part of the balloon and hire the basket, burner and tanks – this can be a great way to get started but it can also be a barrier to getting the best pilot or changing operators in the future should you need too.
Having our balloon there, is like having a people 'magnet' it provides a tool to draw people over.
Be different and be competitive

Plan Audience Targets
Establish where it will be the most useful to have the balloon, large events, invited audiences, VIP flights, at Schools, areas of promotion – aiming to create brand-loyalty and feedback opportunities…
Perhaps you want your balloon to widen or diversify your customer base – reaching more of those that are traditionally hard to engage but have spending control or power. Joint sponsorship "bolt-on" opportunities with like-minded partners can also give great opportunities for both collaborators, to widen audiences.
It creates moments and opportunities for our sales and marketing team to interact with the public, making us much more approachable, enabling us to reach out to more of our target audience…
Your balloon and team could also work collaboratively with others for mutual benefit
By being or part of the main attraction(s) or as the 'cherry on the top' for events, be they International, or National, Local, for your Clients, Staff, Suppliers, or perhaps part of an Arts Programme, Charity, Aviation-Events, Sports Event or at Education Venues….all reaches a new, wider, more diverse groups of consumers.
Be interactive
The balloon can be an intrinsic part of your brand story – everything from building the balloon, the story of the pilots and crew, come and see them - where they flying now? The famous and interesting people they fly, the schools they visit… The balloon stops that feeling of company facelessness – followers have common-ground they can talk about in person as well as on their platforms. Consumers can be drawn in to become brand ambassadors, providing opportunity for you to engage, be open and relate to your clients and consumers.
Balloons are tangible, age and family-friendly way of connecting audiences and consumers to your brand.
The connection of shared experience makes us much more than just a business…
Marketing, PR (Public Relations) and CSR (Community, Social, Responsibility) Ideas
If you are just starting out - why not begin with using some of our tried & tested very effective ideas?
These ideas won't work for every brand but they can often be adapted to suit many and although most of these ideas will take a little planning and perhaps permissions from local councils, landowners or the civil aviation authority - all are not too difficult if done in advance by an experienced pilot, marketing or event manager.
Overflying cities
Could help you reach over 80,000 people at a time - all of which can join your brand story viewing your brand first hand with some marketing input results are easily measureable from consumers via social-media platforms. Once you have the system in place you can apply it to different cities. This works especially well in cities without international airports (although still possible with special permissions and coordination if there is a busy airport)
PR events
So many ideas and opportunities…. Festivals, Car Events, Food Events, Corporate Events, Agricultural Shows (which often have an attendance of 20 to 150 thousand people), Regattas, Races, Sports events, Fêtes, Air Shows (some have over 150 thousand people), Military Family Days, School education programmes, Scouts & Cubs Group events.
PR opportunities
Website, Blogs, Tweets, Facebook, TV, Newspapers, On-site branding, PA Announcements, Trade Stands, Competitions, YouTube Videos, Live Video Streams, TV, pre-event teasers, #TBT, in-house "Newsletters", Feel good photos, Teach a new person to fly and follow their live progress…
All provide great opportunities to encourage searching on mobile, as Harvard Business Review explains, that research shows "that 70% of those using a mobile device to search are within a few hours of making a purchase, whereas 70% of those using a desktop are roughly a week away."
Use your pilots
make them your brand ambassadors and influencers, give them a list of events and people to fly, provide them with marketing aims, keep them updated, provide competition and promotional giveaways, press-packs, uniforms, liveried vehicles and balloon trailer, a Facebook/Twitter account, a hashtag and give them incentives – Pilots are gregarious confident folk by nature – why not offer extra reward for every Local Radio, Tweet or TV slot where they get your balloon seen or if they mention your product or brand….
Photo Opportunities
The balloon can be used as an enormous billboard at publicity events even before take-off, while tethering and for nightglows…
Professional passenger photos for Clients and Customers, Sponsors, Celebrities, Local heroes, Superb Staff, Important Suppliers and Media – create opportunities for great brand perceptions with engaging content with beautiful photographs. Let's not forget the camera-phone 'quickies' and the all-important Selfie's as they are all great PR storylines whatever the business size.
Perhaps an "Owner's Club"
Fabulous opportunities for corporate hospitality; Networking & Reach-out Events, VIP flights, Business Breakfast Meetings, Staff Experiences, Incentives and Rewards, Competitions and Charity Events, Limited Edition Offers - all with the aim of building teams of trustworthy on-side advisers rather than simply developing recommenders who 'push' the brand.
Balloon banners
A great way for adding a short-term message to your balloon. Banners are a tailor-made "second-skin" to fit the balloon with your message printed on it, that can be changed as and when required (we don't need the balloon back each time, we can just send the finished banner to you wherever your balloon is in the world).
Engaging audiences and making them 'sticky'
Sharing experiences in an tangible way, by online media, creative opportunities to "ask the pilot" in online live chats, being visible and present at corporate events or trade stands – all gives your audience real opportunity for introductions, participation, engagement and shared experiences which develops brand loyalty and purchase incentives.
Don't overwhelm be clear
"The single biggest driver of (consumer) stickiness, by far, was "decision simplicity"—the ease with which consumers can gather trustworthy information about a product and confidently and efficiently weigh their purchase options. What consumers want from marketers is, simply, simplicity."
Tethering
Having the balloon on view, inflated but tethered to the ground by strong ropes enables your audience copious photo and 'selfie' sharing opportunities, promoting engagement with a tangible part of your brand, as well as creating opportunities for promotional giveaways too.
Flight permissions & any other civil aviation requirements
Very often special permissions are not required for most flights, however if they are needed these permissions can be arranged by your pilot or with prior notice and some assistance from the national Civil Aviation Authority, or the event organisers or the airport that you will be in or near.
In all cases your pilot will be able to advise as he is the formal licence-holder and therefore the responsible party.
Specialist stunts, flying challenges and iconic film-work
All these are possible and create lots of media noise – but require careful planning, additional experts and very often lots of extra specialist-training, practice and rehearsals.
What do people say about aerial work and sponsored balloons?
"Powerful and long-lasting form of communication,"
"Magical,"
"Timeless,"
"Utterly Memorable,"
What will people love about seeing you fly and flying with you?
The adventure of travelling lighter-than-air with the wind, while feeling part of an elite friendly team. The balloon team working alongside your marketing, enhancing, promoting, incentivising all while being hugely visible – drawing in those hard to reach audiences.
Aerial Work Balloon Business – is not usually a totally cost-effective for paid-passenger rides although it could enhance your marketing mix. More usually larger balloon fly passengers and more information about that type of business can be found here.
When choosing a pilot, Cameron Balloons has worked with most of the commercially-rated pilots who have successful businesses, nearly all of those choose us as their preferred balloon manufacturer. We are very used to 'knitting' together like-minded individuals (Brand and Pilot) who then go on to successfully enjoy working together.
What to look for when choosing a Pilot and a Balloon operating company.
Ask about their company background; when was their business formed, how many do they employ, who are their crew, what do they do for day jobs (most crew often work as something else too – which can be useful as they can draw on those skills too) do crew stay with them for a long time, what events do they normally attend each year, have they worked abroad before, could you see their tether method-statement, a copy of their insurances, first-aid, DBS certificates if required and of course what do they know or like about your company and brand?
A small balloon operating company can often offer flexibility, a single person to speak with and can react quickly to your changing needs.
A larger balloon operating company can often offer a bigger network of contacts with opportunity for cross-marketing but you might not want your message to get lost in a crowd that they are working with. A larger company is likely to have more resources but may not be able to offer you a tailor-made service for your business. Balloons are weather dependent - but in the UK most companies that operate a balloon would plan on at least 120 days of flying and tethering – mainly during the spring, summer early-autumn season.
Methods statements and assessments
Information about how to fly, operate and maintain a balloon is all here http://www.cameronballoons.co.uk/support
The BBC has a very thorough list with examples of all the key safety forms they will expect if you are working with them, which can be found here for reference (2017) http://www.bbc.co.uk/safety/resources/forms-and-documents.html this might provide inspiration for the sort of information you might want from your operating company too.
Some examples of successful and notable PR and marketing locations with hot-air balloons in the past include:
Tower Bridge London Tethers (Potters Field side)
Warwick Castle – complete with medieval banquets, costume and wandering minstrels.
Lots of country houses, manor houses and country parks for public events – Ripley Castle Yor, Leeds Castle, Chatsworth House, Kelburn Castle near Glasgow
City centre launches and flights are a great way for the public to see your brand – special-permission flights are even possible in the capital where airspace is generally highly congested.
Schools – depending on your product this could be a great way to reach an audience and educate too – Cameron Balloons have a ready for use in Schools, Resource Pack http://www.cameronballoons.co.uk/faq/new-cameron-balloons-kids-club
Universities and Sports Events – brand-awareness, team-building, job-advertising…
Hospitals and Hospices, charities and fund-raising and awareness
Rural Hotels – Castle Combe Hotel, - unforgettable corporate entertainment
Agricultural Shows, County events, Historical events and even Village Fetes!
Events at business, supermarket or industrial car parks and grounds
Cameron Balloons' creations have even floated on barges down the River Thames to advertise World-class Rugby Games & a 7metre tall 'Candy Crush Saga' gummy-bear for launch of a new online game.