Burners for Extreme Altitudes
Great News from Thomas Jøhnk & Philip Mundt who successfully completing their first altitude goal of flying up to 20,000 feet in a Cameron Balloons built balloon.
by Hannah Cameron
10 October, 2022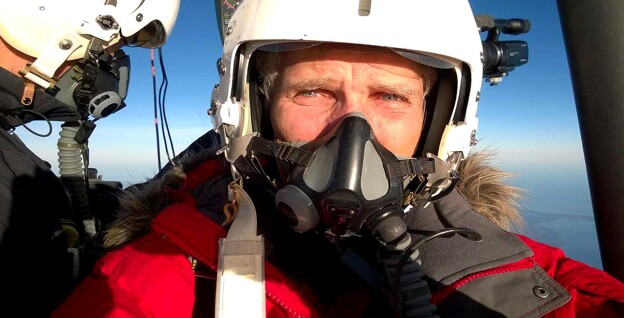 Huge congratulations to Thomas and Philip from all of us here at Cameron Balloons in Bristol on their success.

'Finally, we got great weather here in Denmark, QNH 1036, no clouds, almost no wind for three days. Philip and I managed to fulfil our first goal, 20.000 feet. The trip went very smooth, envelope was only 90 degrees Centigrade at FL 200.

We only used 60% of the gas (out of 4 off 60 litre tanks) and we only used 40% of our oxygen even though we were on pure oxygen from launch to back below 12,000 feet.
Roskilde and Kastrup Tower were very helpful throughout the entire flight. The flight lasted 1:20 hours.
The high altitude unit of my high altitude burner worked perfectly throughout the flight.
With all the big margins seen on this flight our next flight to goal to FL 225 seems easy.

Our equipment: Cameron high altitude burner, Cameron N-133 envelope, 4 x 60 litre tanks, radio, spare radio, transponder, high altitude oxygen equipment, spare oxygen equipment, safety parasuites, WindMaster (moving map for balloons).

Fantastic work guys - a great achievement and amazing photographs.

Pilot Thomas Jøhnk and co-pilot Philip Mundt of Denmark have just returned their Cameron Balloons high-altitude burner for a check over with Cameron Balloons' Engineer Steve Dunk, before it continues its work in flights over 20,000ft...
This high altitude shadow burner has the same fuel intake but a specially adapted can, jet ring, and coil:

- The stainless-steel can is very noticeably and has a much larger cut out to enable free flow of air.

- The main-valve once turned on can also be fine-tuned to reduce the height of the flame during flight, using the green handled needle-valve control.

- The jet-ring has a combination of different jets to help form a good flame-pattern which is particularly suited to higher altitude.
Cameron Balloons Engineer, Steve Dunk explains that, 'even all the o-rings in the burner valve block have been specially designed to withstand and perform in the very cold temperatures associated with extreme altitudes.'
Thomas has been a pilot for 7 years and often flies his Cameron Balloons N-133, Registration OY-LOL balloon.

All the best from us all, at Cameron Balloons and we look forward to seeing their progress and photographs.