Spotlight on Passenger Rides Business
Good background and ideas to consider, before launching into your new passenger-rides business, which we hope will be useful in assisting you with your business project-planning
by Hannah Cameron
13 October, 2022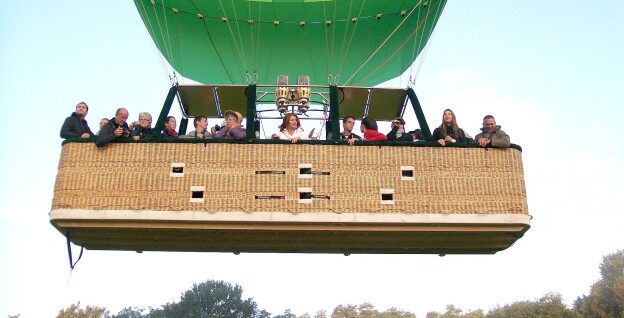 What do I need for a great passenger-rides business?
1. Great, proven long-lasting, reliable, hot-air balloon equipment - specially designed for carrying fee-paying passengers and guests.
2. A beautiful venue, interesting attractions and/or amazing city-landmarks, incredible rural or remote landscapes.
3. A never-ending supply of lovely customers, visitors, tourists. Careful consideration of the business location - being nearby a city full of people wanting to fly has advantages.
4. Investment capital.
5. Interesting, experienced, fun; Pilots, Crew, Guides & perhaps even Chefs!
6. Lots of great ballooning weather.
7. S.W.O.T. *
Passenger-Rides, Balloon Business - More Detail.
1. Balloon Equipment
A successful business needs; great, reliable, proven long-lasting, hot-air balloon equipment – specially designed and aeronautically-engineered by Cameron Balloons for carrying fee-paying passengers and guests.
The size and shape of a hot-air balloon is determined by several factors; the local area, weather conditions, availability of passengers, experience of the pilot, size and availability of landing-spots etc.
The most popular sizes of balloon usually carry, the Pilot plus 6-12 passengers, although larger balloon operations very often carry 16 passengers at a time, per balloon.
Cameron Balloons also builds very large passenger-carrying balloon systems, known as The Cameron Balloons Z-750 which can accommodate up to 32 passengers.
The cost of any complete hot-air balloon system varies with individual pilot requirements, the type of fabric, the terrain it has to withstand, other equipment used for example vehicles etc. However, we are delighted to offer all our clients; expert help, ideas and assistance when making choices about equipment specification.
The typical life of your Cameron Balloons passenger hot-air balloon will be approximately 400 hours to over 1000 hours depending on the fabric you chose for manufacture, the local atmospheric conditions, the terrain the equipment is subjected too and how it is operated, maintained and stored.
Cameron Balloons also has great pleasure in providing our Balloon Envelope Fabric Guarantee* for the first 60months (5years) or 72months (6 years for Cameron Hyperlast)
*Please contact sales@cameronballoons.co.uk for a copy of the latest issue of the Cameron Balloons Ltd. Guarantee which contains the set of straightforward terms and conditions. (Please note that special-shape & superlight balloons have different guarantee terms and conditions – details available on request)
Cameron Balloons Ltd is also the ONLY manufacturer (as far as we know) to offer an ESCROW facility - where the client's deposit is held in a secure account outside the company until the balloon is complete, giving balloonists total confidence that their deposit is safe.
The figures here, give sensible estimates for the costs of set up, for business planning purposes.
Please contact sales@cameronballoons.co.uk if you require more detail and precise figures.
Complete equipment – includes the Envelope (fabric part of the balloon), the Basket, the Burner, Fuel Cylinders suitable for the size of balloon & cold-air inflation fans - which are needed at the beginning of the flight to inflate the balloon before hot-air, from the burner.
All the prices above have a period of validity (as stated) but exclude, taxes, shipping, country-certification-fees and any artwork costs - all of which can be costed precisely, as the order progresses to formal sales contract agreement, prior to the point of deposit. These prices also exclude any balloon crew, trailer and vehicle etc.
We can add any type of graphics onto the fabric envelope, either using an appliqué process (adding cut fabric on top of the balloon 'skin' to build up the design using different colours) or more usually, by digital printing directly onto the balloon fabric – this is particularly good, if you wish to have something photographically accurate without adding extra weight.
2. Location.
A beautiful venue, interesting attractions and/or amazing city-landmarks / incredible rural with remote landscapes is desirable.
Ballooning has been described as the 'finest way to travel' by Don Cameron, Founder of Cameron Balloons Ltd.
& that you generally 'don't go anywhere to balloon, you balloon to balloon' Malcolm Forbes of Forbes Magazine.
Successful, big, balloon-ride businesses need interesting or unusual places to fly over; and this business model is shown to work well in places like Bagan in Burma and Cappadocia in Turkey.
There are also hundreds of very successful balloon-ride businesses flying profitably, in smaller-scale businesses, throughout the globe.
Whatever your business model, if you are just starting-out; Cameron Balloons' reliable, hard-working equipment and support is a very good place to start.
3. Passengers
A never-ending supply of lovely customers, visitors and tourists or your business being nearby a city full of people wanting to fly is essential.
Researching the tourist information numbers for your proposed area or perhaps numbers for other similar local adventurous sports is useful planning information too.
Consider local and national calendar events, possible partnership opportunities with hotels or other local tourist locations, offers, group buy deals, repeat flight offers and your advertising campaign ideas. Inventing some stimulating and newsworthy PR stories – For instance, the progress of the balloon during its build at Cameron Balloons is a fabulous way to start generating customer excitement and PR.
What do most people love about ballooning?
For most passengers, ballooning is great fun. It is an unusual, gentle adventure - sometimes a little bumpy on landing. Ballooning is an exhilarating, unforgettable and flying in these giant aerostats appeals to all, be they young or old. For a few, it is just a once-in-lifetime experience but for many it is something they do again and again. Overall, all passengers agree, it is a hugely memorable experience.
What will your passengers love about ballooning, with you?
If you haven't been flying before – it would be worth flying in a balloon, looking at the operation through the eyes of a passenger, what would you change, do better, do differently? How would you add value to the experience without adding overhead, what would be your USPs (unique selling points)?
4. Costs
Some investment capital...
Financial investment will be required for this business and although we are the world's most popular balloon manufacturer – we are a lousy bank (if fact, we are not a bank at all.)
We regret to inform that we do not loan money or arrange asset-finance or mortgages – we can however help you to answer specific balloon-related questions for your bank or money-providers.
5. Operating Crew.
Interesting, fun Pilots, Crew, Guides, Drivers and maybe even Chefs! To fly the larger passenger-ride balloons, you need most-usually a trained hot-air balloon pilot who holds a current commercial balloon pilot's licence CPL(B). This regulation varies from country to country but a country-approved, valid CPL(B) is usually required.
The training for a Commercial Pilot's Licence varies but typically requires Pilots to obtain a private pilot's licence first which generally takes between 16 - 40 hours of flight tuition, incorporating instructor flights, additional ground-based theory study, examinations, some flight tests, radio licence examinations as well as regular thorough medical examinations.
Find staff that are an asset to your business! People that enhance your business and ensure they are people whose company you enjoy – as ballooning is, lots of early mornings and long days!
More about Pilot training
The usual route is: Pilot under Training (PUT) -> Private Pilot Licence Balloons PPL(B) -> Commercial Pilot Licence Balloons CPL(B)
Private Pilot Licence Balloons – PPL(B)
Cameron Balloons has great links with a premier hot-air balloon training 'school' in Mondovi, Italy, www.aimoballoons.com where you can aim to complete training in about 3 to 6 weeks - as the weather is generally very reliable for ballooning there. To finish both the practical and theory training however, typically takes most students between 4 - 10 months and in order to qualify, theory and practical, once started, must be completed, within 2years.
Commercial Pilot Licence Balloons - CPL(B)
Once qualified as a 'PPL(B)' qualified Private Pilot's Licence balloons, flying regularly will mean an opportunity to gain more experience and after a minimum of 100 flying hours, you can go on to become a licenced pilot to fly fee-paying passengers known as a commercial pilot balloons CPL(B).
This involves further ground-based examinations (similar to a civil-airline pilot) an extensive medical and other flight test examinations. Typically most pilots take 1 - 3 years to gain this additional, necessary experience.
For a balloon pilot to fly commercially in the UK (so that they can legally carry fare-paying passengers) they require a Commercial Balloon Pilot's licence CPL(B).
This licence is very well regarded in other countries but it would be wise to check with your own country's Civil Aviation Authority Regulations, so you comply fully with their requirements.
Crew
Successful balloon companies have well-trained crew who not only manage all aspects of balloon operation (apart from flying), they often can maintain vehicles and the best ones are often fastidiously tidy too (which helps keep equipment together and in order.)
Important crew traits are enthusiasm, robust cheerfulness even when it is very early and making it feel special and unique for the guests – even if it is their 2000th time working with the balloon.
Great crew often have other skills that they can draw on should they need to; such as fire & first aid courses, customer service and retail training, organisational skills, HGV driving qualifications etc.
& of course lots of great ballooning weather.
This usually means working closely with local or national Metrological Offices using their various resources; which could include talking to a Forecaster, examining the aviation forecast services (some countries also have Ballooning forecasts by region) obtaining data about low-level spot winds, Terminal Aerodrome Forecasts, pre-flight briefings, online synoptic charts, weather prediction systems and rainfall radar - by combining all these reports together, Balloonists can get a good picture of the usual weather conditions for an area and precise conditions for the next 12hours, 24hours, which informs of the likely trend for the next 36hours to 48hours
* A Few S.W.O.T. (Strength, Weakness, Opportunity, Threat) Considerations
Pilots
In the UK - in 2013 (latest data available) there were 11 female and 175 male, current Commercial Pilots CPL(B).
So although you can employ one of these freelance pilots or indeed a pilot one from another country if your authorities will accept their qualifications, we also suggest for business longevity and stability that it is well worth having a 'grow-your-own' policy for Pilots and Crew too. Perhaps - as it could be worth identifying key people, guiding and training them, helping them to grow to become great assets for your future business needs...
Safety
GASCo shows safety information including accident data for the previous 10years in the UK or with UK registered aircraft. http://www.gasco.org.uk/safety-information/accident-data/fatal-2014.aspx It should be noted that that there are currently no UK balloon related reports featured, in any of the last accident lists, for the last 10years (at March 2016)
Political & Legal
Please contact your local civil aviation authority for any further requirements for an Air-Operators Certificate business set-up, in your particular area.
It is also worth considering travel advice offered to tourists too about your set-up country - as this may affect your supply of customers. As an example, the UK Government have 'Foreign Travel Advice' by country here https://www.gov.uk/foreign-travel-advice
Marketing & PR
What is; your business story or your unique selling points, skills and expertise area(s)?
How can you differentiate the experience you are offering from your competition…?
& how could your USP (unique selling points) be enhanced or capitalised on?
Perhaps you can 'add-on' goods and services that would increase value for your customers, putting you apart from the rest?