Which fabric is best for Hot-Air Balloons
What will be the best fabric for a particular job or application. In ballooning terms, there are a number of best fabrics, depending on your type of hot-air balloon use.
by Hannah Cameron
9 October, 2022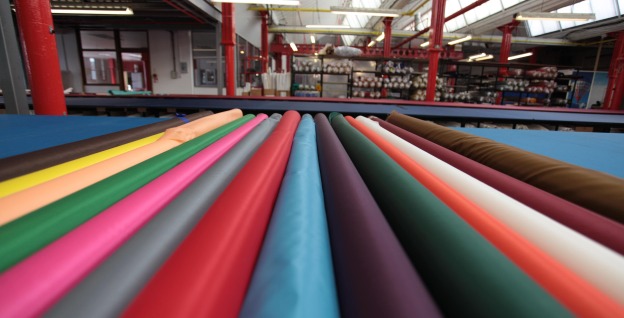 Very importantly, our focus is on, what will be the best fabric for a particular job or application. In ballooning terms, there are a number of best fabrics, depending on your type of hot-air balloon use.
Now, more than ever, balloonists need real hero fabrics!
'Now, more than ever, balloonists need real hero fabrics! Great performing, light fabrics that are robust enough to withstand the hard-work, heat, moisture, dust & grime that balloonists throw at it, flight, after flight, after flight…' Hannah Cameron, Cameron Balloons Ltd.
So, whether you want; a 'workhorse' fabric; for day-in-and-day-out passenger rides balloon work in tough environments or whether you want a superlight fabric for a one-man balloon. Let us at Cameron Balloons provide cutting-edge information and to show you the latest innovative in-house tested and approved fabric ranges to assist you with your decision-making.
All fabrics have core principal benefits and we at Cameron Balloons can expertly and helpfully guide each balloonist to ensure they have accurate information to choose the optimum envelope fabric for their needs,' Craig Moore, Cameron Balloons Ltd.
All fabric benefits are measured in terms of strength, lightweightness and all round longevity with additional incorporated essential properties such as anti-mould, anti-mildew and anti-fade. These properties are crucial when considering which fabric to choose for your Cameron Balloons built hot-air balloons.
Cameron Balloons constantly researches, develops and with over 48years balloon manufacturing experience and with more than a quarter of our staff, balloon pilots - we really understand, what is needed from our balloons too.
Hot-air Balloon Fabrics
Nylon 6.6 is, as the world's favourite hot-air balloon manufacturer, our choice of substrate. It is a synthetic material, available in a vast, vibrant colour palette, in a large choice of deniers (thickness of fibres.) Nylon can readily be adapted for balloon specific use, by adding extra properties via the Cameron Balloons 'recipe' of specialist temperature-cured coatings. It has excellent; temperature and abrasion resistance as well as outstanding performance, in 'stretch and shock' tests. These, alongside other inherent properties such as; repelling water, drying quickly and resisting mildew make it a proven reliable fabric.
Polyester fabric is an alternative we sometimes use if a customer prefers, but INVISTA (formerly DuPont Textiles and Interiors) offer an unbiased opinion on this subject, as they manufacture both fibres. They are of the opinion that Nylon is the fabric of choice for hot-air balloons.
How is balloon fabric made?
Nylon polymers and other components are melted, mixed, heated, extruded into fibres and sent through a spinneret (a plate with fine holes) to form filaments. This mix of hexamethylene diamine and adipic acid produces an exceptionally high performance fibre, whose foundation properties, tremendous durability compared to weight, great heat-resistance and general toughness are perfect for balloon fabric.
This type of fibre is just the start of a fabric desirable for hot-air ballooning. At this point, the fibre is tested for conformity and uniformity at the yarn spinners and yarn that passes has outstanding tenacity (strength), elasticity, dye-fastness and a high melting point.
This A1 yarn is then woven into huge rolls of sheet fabric using Cameron Balloons specified 'recipe' of particular denier threads – this adds our characteristic grid of 'rip-stop' thicker criss-cross threads which increases both the tear and overall strength. The fabric is then colour-dyed to one of our 23 standard colours or indeed a customer specified special colour.
Then the substrate is tested again for conformity to design specification and colour consistency.
Next it is the turn of a machine which looks rather like an automatic 'butter' spreading-machine. This covers every millimetre of fabric uniformly with our special-recipe coating. (Depending on its end-use needs, some of our fabrics have every fibre coated before being woven together and for other Cameron Balloons fabrics, either a single or both sides of the woven fabric sheet is coated.) To make a balloon efficient, all woven fabrics need coatings to prevent air-flowing through the otherwise porous weave.
At the fabric manufacturers, under laboratory conditions, each batch of every single colour of fabric, is tested to ensure it conforms exactly to our design specification. This check involves; chemical composition, warp and weft tenacity, cold-crack, shock-and-stretch, colour verification and extreme heat and humidity cycle tests. If it passes all of the tests throughout each process, it can be released for use in our hot-air balloons.
Cameron Balloons uses more than a kilometre of fabric for a small, four person balloon but still for every batch of fabric we at Cameron Balloons use, we put it through our own in-house tests. We start by using an extreme 'weatherer' machine to invoke, under-test conditions, some of the harshest environments known to man. Then in order for us to be totally satisfied we also test each batch of fabric for warp and weft tensile strength before and after the extreme weathering tests too. If the fabric passes all of those tests only then, will it be released by our Design Engineers for use, for the balloons we manufacture here in Bristol.
Cameron Balloons Fabric Coatings
The Cameron recipe, of aliphatic-polyurethane coating delays fabric porosity onset, which means it helps envelopes last longer and use less fuel. It also helps protect against hydrolysis (repels water) and deters the formation of moulds that can discolour and weaken fabrics. Some other key ingredients in our fabric coatings;
The Design Engineers also incorporate into the coating an additive that acts as a neutraliser of ultra-violet light energy, working to protect individual fibres in the yarn from degradation, designed specifically for aeronautical textiles. This enables our hot-air balloon Nylon fabric to offer much better resistance to harsh UV.
Hyperlast
Cameron Balloons designed Hyperlast, is a market-leading fabric frequently used in passenger-rides hot-air envelopes. This smooth fabric is made up of an incredibly strong substrate - an individually coated silicone-elastomer yarn. It is woven and then 'calendered' (compression rolled) to ensure a smooth even and strong weave from this more robust denier Nylon fibre.
Nylon and Polyester
Cameron Balloons Design Engineers often choose Nylon as their preferred fabric for balloon applications due to its superior strength-to-weight ratio, abrasion and tear resistance and energy absorption characteristics.
In comparable terms of strength-to-weight ratio, Nylon is better than polyester. This means that envelopes made from Nylon can be lighter without compromising strength, or if equivalent in weight, to a polyester balloon they work out to be almost 30% stronger.
Both Nylon and polyester are classed as hydrophobic fibres, which means they repel moisture, polyester does tend to rate marginally better, in this test under laboratory conditions when compared side-by-side with Nylon.
Polyester is 21% more dense than Nylon meaning that the diameter of a polyester fibre with the same Decitex* and filament count as Nylon would be smaller. So, to achieve an identical 'cover factor' (tightness of weave to keep porosity to a minimum), a 1m2 piece of polyester fabric would contain a greater number of thinner (but same weight) threads than the same sized piece of Nylon fabric, making the polyester piece heavier than the Nylon counterpart. A consideration in ballooning, as of course, unnecessary weight is not welcomed when building or flying a lighter-than-air aircraft. To counteract this heavier weight fabric pre-coating, polyester weavers, often reduce extra weight by applying thinner, less flexible coatings. (*Decitex is the grading for filament and spinning yarns recognised by the man-made fibres industry)
Extra coatings are proven to significantly improve the life and performance of any fabric.
The lower density of Nylon means that fabrics manufactured from it can have higher level of coating, have less porosity and still be well within acceptable working weights.
Weight-for-weight, Nylon is also more resistant to any damage than a polyester fabric of the same construction. This is due to its higher 'extension at break' meaning that, as Nylon has inbuilt elasticity it enables it to absorb 'damage-energy' better than a same grade polyester.
Ultra violet light degrades all fabrics and an uncoated ordinary Nylon is less good in this aspect than polyester but by adding a coating to the fabric, as used in the manufacture of Cameron Balloons particular Nylon, it works to protect the fibres from degradation. In fact, in like-for-like weathering tests, high tenacity Nylon 6.6 outperformed polyester in terms of retained strength by a factor of five!
Nylon also, just for interest, is preferentially used as it has superior abrasion resistance to polyester in non-aeronautical but unforgiving environments such as carpeting, automotive upholstery and military and outdoor-sports equipment.
If you would like to talk with our design team about which fabric is right for your balloon or project we would be delighted to provide ideas, suggestions, case-study experience, customer testimonials and fabric samples.
And if you are thinking about superlight ballooning we have a whole range of options to suggest;
Kevron load tapes which are immensely strong but very light-weight, (similar to bullet-proof-jacket material) offer a further 4% reduction in weight from the standard envelope weight. We encapsulate these tapes within the seams, to protect them from damaging UV rays.
(And to to protect any Cameron Balloons Kevron load-tape that is not in a seam, we feed it securely through a tubular tape to ensure its longevity.)
Cameron Balloons also have a huge and vibrant range of superlight Silicone 49gsm or PU-coated (polyurethane) at 55gsm fabrics which can be used favourably in envelopes up to a 56 thousand foot balloon - available in a range of the most popular colours.* In terms of fabric life, our thorough testing of these superbly lightweight fabrics suggest that 250hours is very achievable. This could be considered unfavourable when compared to our other fabrics but when but when most private balloonists are averaging 15-25 hours per year, this would more than suggest that envelopes constructed using Cameron Balloons superlight fabric have a potential of 10 to 16years.
'And with our latest hopper envelope weighing only 30kg including the bag, scoop and wires it takes superlight ballooning to a whole new and much improved level.' Simon Askey, Cameron Balloons Ltd.
*Other colours are available by special order which normally takes 1 to 2months enabling clients to take advantage of order bundling, which reduces special-order related costs.