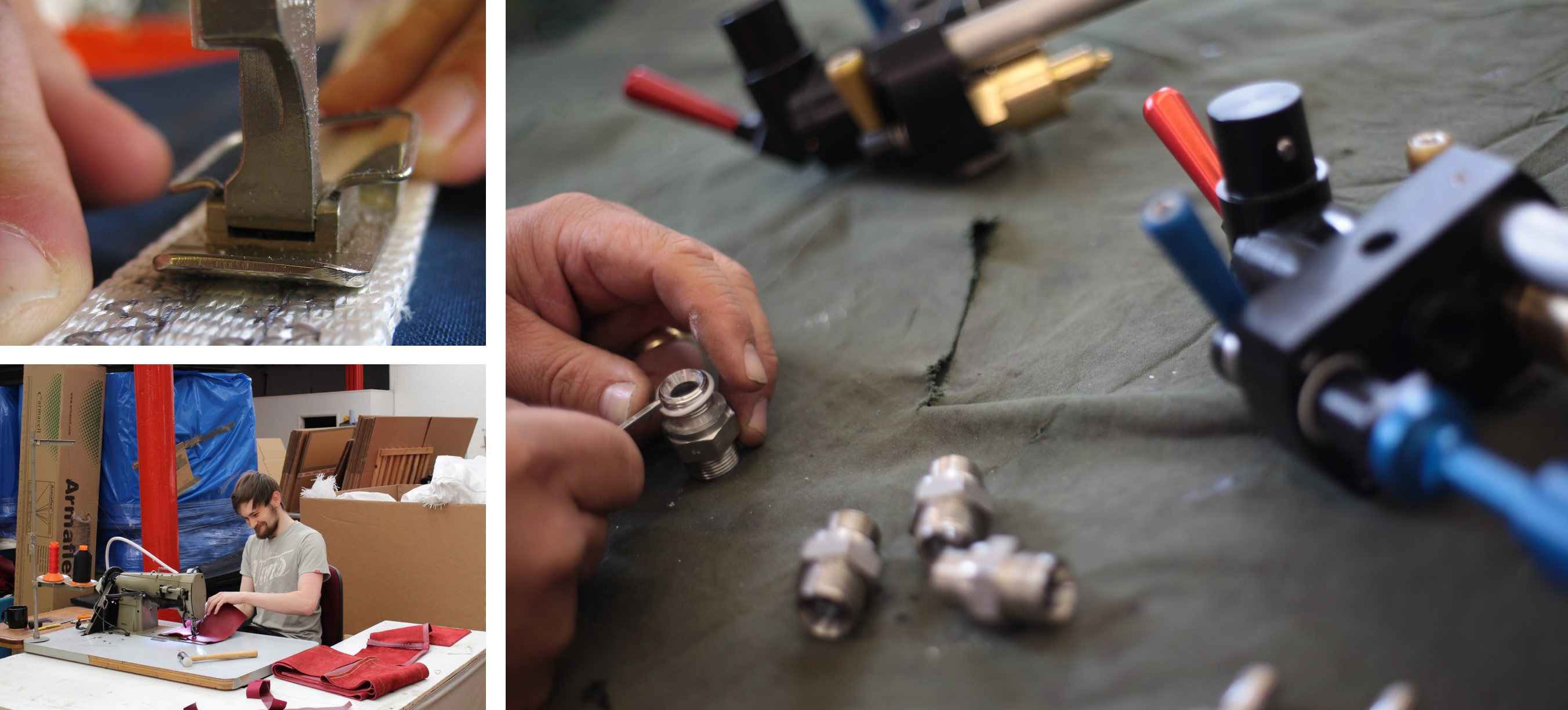 At Cameron Balloons in Bristol, we pride ourselves on choosing and keeping great members of staff who not only bring skills and experience but are willing to work flexibly and with cheerfulness within our existing brilliant and rather exceptional 'family' environment.
Now and again, we do need to make a few changes to our workforce at Cameron Balloons and, if and when we do, we advertise them here.
We would welcome anyone who is interested in the vacant position(s) who has the skills required, to get in contact by email or post with their full contact details and CV... Or if preferred, to simply fill out one of our application forms and send it in.
And, if you know of someone who might be a "perfect fit" for any of the positions advertised here, please do share this information with them.
Download the Cameron Balloons Application form
Job Vacancies at September 2023

Experienced Sewing Machinist Vacancy
Cameron Balloons is delighted to be recruiting for, a full-time (37.5hr /week) SEWING MACHINIST, to join our expert team.
The Cameron Balloons machinist's role, involves working on all aspects of hot-air balloon manufacture using both twin & single needle techniques. Meticulous work involves being part of an existing team, working on a wide range of aeronautical and fabric-engineered projects.
Cameron Balloons would provide additional on-site training to ensure familiarity with the specialist aviation sewing-work and unique fabrics. Previous industrial sewing experience is a distinct advantage but good domestic or college sewing experience will be considered too.
Cameron Balloons vibrant, friendly, busy environment is also the World's most popular manufacturer of hot-air balloons and special-shape balloons, was founded 50 years ago.
Shortlisted applicants then will be invited to a zoom interview, then if successful an interview day which will include standard "second-round" interviews with Production Director and one or two colleagues as well as some sewing practical assessment work.
Cameron Balloons Ltd. is also proud to say, we are a Living Wage employer - which means everyone in our Team is paid above the UK Living Wage.
How to apply
If you have the experience and want to be part of our award-winning team or have a question about any job(s) advertised here. We welcome your applications with your CV / letter with full contact details by e-mail enquiries@cameronballoons.co.uk or if preferred by post, write to our HR Director, using our application form (download link above), detailing relevant additional experience, qualifications & full contact details for a particular job, with any questions, once it is advertised.
Cameron Balloons Ltd.,
St. John's Street, Bedminster, Bristol BS3 4NH.
We look forward to hearing from you!
School-aged Student Work Experience 3-day placements.
The new summer work experience placement application period for Cameron Balloons will open in September 2024 for 2025.
We regret to inform that we are not offering any work experience placements until that time.
'Most students, if they are up for a challenge get a lot out of our work environment, each student takes up a great deal of our work time and here, we are lucky to have a mix of academic and skilled practical work. Student days aren't just filled with 'shadowing' the staff who are actually working - but instead the students get some proper 'hands on' work.' - Ian Lewis, Artwork & Cutting Department Manager.
In the meantime, we have designed some amazing resources for younger children who are interested in ballooning too. These free resources are perfect for Beavers, Cubs, Rainbows, Brownies, Scouts, Primary Schools and any Children's Groups who are fascinated by Aviation - specifically lighter-than-air hot-air ballooning, supporting the study of flight, which is part of many school curriculums and club badge programmes.
https://www.cameronballoons.co.uk/news/cameron-balloons-kids-club
And if you want to build your own balloon – here are the instructions for building a model balloon. https://www.cameronballoons.co.uk/news/build-your-own-cameron-hot-air-balloon
We hope to be able to provide some great opportunities for a few work experience placements in the future but until then, we are working on the 'The Cameron Balloons Virtual Factory' which will be another helpful, fun and educational resource from Cameron Balloons ideal for students, teachers and lecturers.